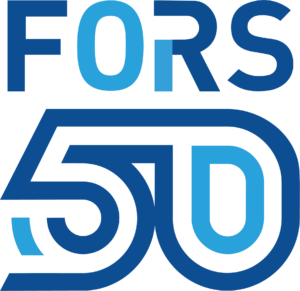 Dear colleagues,
We invite you to participate in the FORS50 Conference on Operations Research (OR), which will be held on September 23-24 at the University of Jyväskylä, Finland, in honor of the Finnish Operations Research Society's 50-year anniversary. The conference will feature invited keynote talks and contributed talks in parallel sessions, providing a platform for researchers, practitioners, and students to share their ideas and contributions on the latest developments in OR.
The event will cover a range of topics, including, but not limited to:
Humans in OR: How do people and organizations use operations research to improve decision-making? How can we incorporate human factors into OR models and methods to better reflect real-world complexities?
How OR has changed the world: What are some recent applications of OR in industry, government, and society? How has OR contributed to solving complex problems and making better decisions?
The future of OR: What are some of the emerging trends and challenges in operations research? How can we innovate and adapt to meet the evolving needs of stakeholders, decision makers, and society at large?
We welcome submissions of contributed talks on these and related topics. Submissions should include an abstract of no more than 300 words, title of talk, and a list of authors and their affiliations. Accepted talks will be allocated to appropriate parallel sessions. The abstract will be made available in a collection of abstracts after the event.
In addition, we have invited keynote talks from distinguished researchers and practitioners from the field of OR. More details will be made available eventually.
We look forward to your participation in the FORS50 Conference on Operations Research and to celebrating the Finnish Operations Research Society's 50-year anniversary together!
Sincerely,
The board of the Finnish Operations Research Society
PS. Stay tuned for the updates regarding the opening of the abstaract submission and the opening of the registeration for the conference.
Keynote speakers giving talk at FORS50
Prof. Dr. Bernhard Sendhoff

Global Network Honda Research Institutes

Prof. Dr. Anders Forsgren

KTH Royal Institute of Technology

Dr. Jukka Ruusunen
Prof. Dr. Emeritus Jyrki Wallenius

Aalto University School of Business 
Important dates and key info
Time: September 23-24, 2023
Location: Faculty of Information Technology, University of Jyväskylä, Finland.
Venue: Agora building, Mattilanniemi 2.
Registration fee: 160 euros (includes lunch and coffee on both days, and the anniversary banquet)
Important dates:
Abstract submission closes: 12th of May 2023
Abstract acceptance notification: 17th of May 2023
Registration to the event closes: 28th of June 2023
For further inquiries, contact giovanni.a.misitano@jyu.fi
Useful resources for participants
Accommodation

FORS50 has pre-reserved rooms for its participants, please include the code (published later) when making a reservation to get a reduced price.

University of Jyväskylä campus map
We have reserved rooms in hotel Alba, which is located under 50 meters (by foot) from the conference venue. When making a reservation, you can give the campaign code FORS50 to be able to reserve rooms for reduced prices. To be eligible for the campaign prices, the reservation must be made one month prior to the stay at the hotel. The prices are the following:
single room standard, 100.00 euros a night
single economy, 95.0 euros a night
single superior, 111.00 euros a night
single suite with sauna, 153,00 euros a night
double room standard, 122.00 euros a night
double suite with sauna, 173.00 euros a night